If you are in the energy biz you probably spend a lot of time in Houston. I know that I do. It is only a 75 minute flight from Tulsa so most of the time I just run down and back for the day.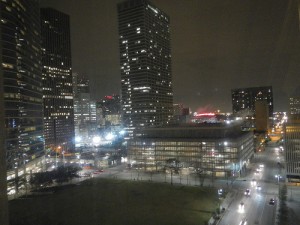 Last week I spent a rare overnight trip there. I spent the night downtown. It had been years since I've done that. I thought I would go geocaching. I found one and then was done. It was cold, I mean freezing.
So I retreated to the tunnels. Downtown Houston has about 6.4 miles of tunnels downtown. I called it quits after a dozen blocks or so. The thing about tunnels. They all look the same. Especially after hours. During the day there is a lot going on and lots of shops and restaurants and such. After work it is all deserted and not very much fun. It is warm though!
I finally found a decent sushi place and had me some very good raw fish and a couple of malted beverages for dinner and then made the long, cold, windy, dark, deserted walk back to my hotel.
The next morning I had a meeting with a customer and then headed back to Tulsa.