Monday morning I decided to go check out the North Woods trails at Oxley Nature Center. I heard there was a new trail and I wanted to go check it out.
I don't need much of an excuse to go to Oxley, especially what they call the North Woods Unit. Seldom do I see another person.
Usually there are lots of birds and squirrels. This day I saw a bunch of deer running through the woods, too far away to even try taking a photo.
The leaves have pretty much got blown off the trees already so you can see deep into the woods now.
Oxley is kind of low. There is almost always water. It is kind of halfway a swamp.
Hah, I found the new trail. It's not very long, its kind of a cutoff from one part of the existing trail system to another. That's okay. I love networked trail systems. It makes for options and I love options.
I soon got to the boardwalk. One of my favorite spots. Something about a boardwalk in the woods looks great to me.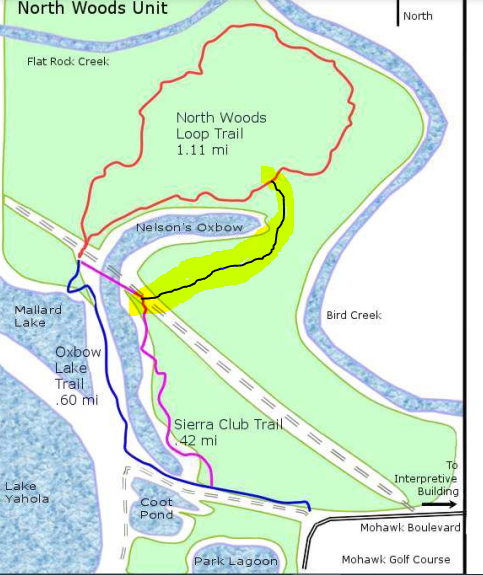 Oxley hasn't added the trail to their trails maps yet so I am doing it for them. It's the blue line highlighted in yellow above. I'm a thinking when I start trailrunning again I can do a cool 4 mile route of the new network. I had been reading on social media on the new trail at Oxley but I couldn't figure out where it was, so now we know.
How is your week going? I'm linking with Our World Tuesday. Check it out.